This article was originally published as "Venice Siblings Engineering Bright Futures" at Gulf Coast Community Foundation.
The end of another school year is upon us. For many students, that means a blissful two months of relaxation and time off between classes. For others, it means a summer of additional classes or internships. The Poole family will be experiencing a little bit of both this summer.
Brothers Trevor and Connor Poole are Venice natives and Venice High School graduates. Both are also students in the Gator Engineering at SCF program. Trevor was a part of the inaugural class accepted into the program in 2017. His younger brother, Connor, just graduated from Venice High and will be in the program's third cohort this fall.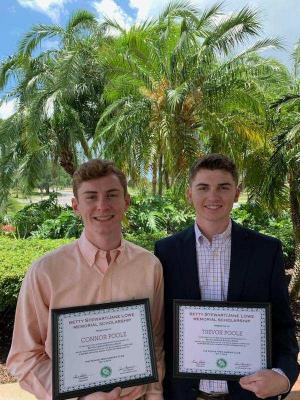 The Pooles were introduced to Gator Engineering at SCF while students in Larry Shannon's engineering class at Venice High. Each year, the program allows a group of students to begin their coursework at State College of Florida's Venice campus, enjoying smaller class sizes and staying close to home, before they head to the University of Florida campus to complete their major. Participants gain formal admission to UF's prestigious (and highly selective) Herbert Wertheim College of Engineering as early as their first spring semester, even while they continue taking their "critical-tracking courses" at SCF for about two more semesters.
"This program kind of opened the doors for me to get into UF," says Trevor, who moved up to Gainesville in his sophomore year. "And the thing that I loved about it was all the support from the community, from Sarasota County."
Connecting Local Students to Big Opportunities
Gator Engineering at SCF is just one piece of the UF Innovation Station Sarasota County, the first physical extension of UF's College of Engineering.
The Innovation Station provides a pipeline of engineers and technology to serve our region. It gives local students expanded access to UF, and connects local businesses with UF resources and talent. Engineering students who earn internship and co-op positions here in the Gulf Coast region can gain valuable experience and make vital connections that can lead to careers in our community.
For example, Trevor accepted an internship this summer in Sarasota County's Traffic Engineering & Operations office, working alongside the county's traffic engineers. "It's a really cool opportunity," he says. "I'll be taking data from bridge conditions, and looking into ways to make traffic flow more evenly and steadily throughout the county, which I think is something we really need." (We agree, Trevor!)
An early investor and ongoing partner of the UF Innovation Station, Gulf Coast Community Foundation recently awarded the program a grant to provide stipends to interns like Trevor. The stipends supplement pay and assist with living expenses for the duration of the internship, helping to ensure that local businesses can compete for top UF talent.
Connor Poole, meanwhile, will enjoy his summer at home before diving into his courses at SCF in August. Having appreciated the engineering program at Venice High and further inspired by his own electrical engineer father, Connor is eyeing electrical engineering for his major at UF.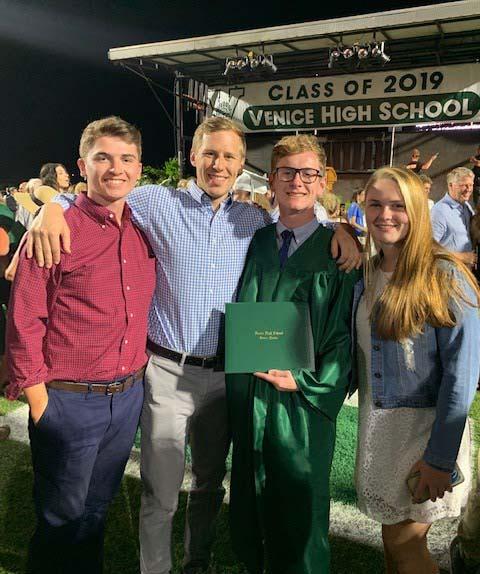 Poole of Talent
The boys' mom, Denise, raves about the Gator Engineering program and the opportunities it provides for local students. "Being in a smaller class at State College of Florida is really nice," she says. "It gives them a great foundation, and Trevor had a nice, strong GPA coming up to University of Florida as a sophomore."
"We're really hoping they can graduate almost debt free, which would be a gift for them to be able to achieve," she adds.
The family might even extend its legacy of Gator Engineers. Youngest sibling Kiley, a rising junior at Venice High who has completed two years in Mr. Shannon's engineering class, is looking to be a part of the same program. If everything goes according to plan, she'll be a Gator Engineering student in cohort 5!